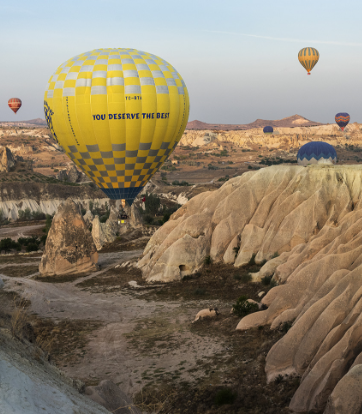 Cappadocia is one of the most captivating regions in the world. Lying in central Anatolia (between the cities of Nevsehir, Kayseri and Nigde) here, you will find a fantastic and bizarre landscape that evokes the atmosphere of an alien planet.
Wind and weather have eroded soft volcanic rock into hundreds of strangely shaped pillars, cones and "fairy chimneys", creating a lunar-like landscape. The scenery is awash in many lovely colours; the rocks fade from various shades of pink to yellow russet brown.
Cappadocia is an extraordinary land, combining unique and beautiful natural features with a fascinating cultural and historical past. Hittites, Byzantines and early Christians established important landmarks here, as did Mother Nature, with her stunning erosion of the soft volcanic deposits.