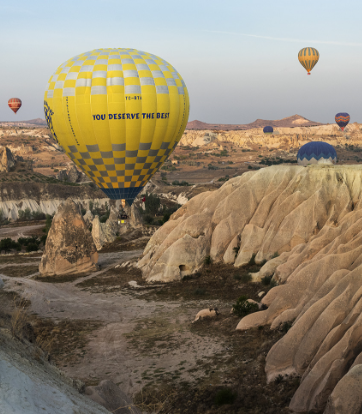 The newest company to open in Cappadocia, Turkiye Balloons has been formed in 2013 by four of the best chief pilots in the region. Our multi-lingual pilots are not only experts in the region but they are also instructor pilots. Our pilots will fly you over Cappadocia to provide you with wonderful memories to last you a lifetime.
Our pilots, serving in all stages of hot air ballooning from ground crew to the pilot degree in Cappadocia, Turkiye since 2005, consist of qualified, talented and experienced instructor pilots. Each pilot has at least 2500 hours of flight experience, and they can speak English well enough to communicate.
Our staff, on the other hand, has a wide range of operational, tourism and ground service knowledge. By adopting the principle of ''YOU DESERVE THE BEST'' our staff meets the needs and desires of guest in terms of flight safety.